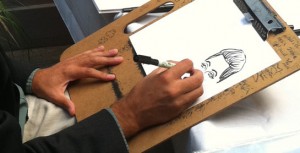 Below are answers to questions I'm frequently asked about my event services. (For questions about my gift or promotional caricatures, please contact me!)
I want to hire you to draw at my event. How do you charge?
Since every event is different and varies by location, duration, and attendance, I ask that you contact me for a quote. I am hired by the host, and caricatures are always free to guests. Some events require flights and multiple artists (that I can provide). I offer package rates for corporate events and weddings.
How many people can you draw per hour?
I'm pretty fast! Approximately 15 people per hour – black ink drawings.
Do you exaggerate people's worst features? I've seen some mean caricatures!
Not me! I accentuate the positive!
How far in advance should I book you?
As soon as possible.
I'm expecting hundreds of guests. How many artists will I need? Are they as good as you?
If it's within your budget, I definitely recommend having me book additional artists for you. I only work with the best.
How far will you travel?
Anywhere in the world as long as my airfare, hotel and expenses are covered. For events within an hour's drive of Boston (my local area) there's no extra travel charge.
What do I need to provide for you at the event?
A table and chairs (set up next to an electrical outlet if the room is dark).
Do you send a contract and ask for a deposit?
Yes. I request a 50% deposit to reserve your date.
What size paper is used? What kind of materials?
I draw on 8.5×11″ acid free card stock paper. I draw with fade-proof ink brush pens.
Do you provide frames or mats?
Not at this time. But I do provide clear magazine bags for each drawing.
How do you handle lines of people waiting to be drawn? Lists or numbers?
First come first served is the smoothest way of handling things.
Do you recommend black & white or color at events?
I do black & white drawings 95% of the time because there are so many people who want a caricature. It's faster and reduces the wait time for everyone. But I can certainly make color drawings if you'd like. It's more appropriate for small events.
Can you be available for a rain date?
I can only reserve a rain date if you can pay an additional deposit to have me hold 2 dates for you.
Do you ever roam around at events, drawing while people are mingling?
For best results I need to be seated at a table that you provide, with a model who can pose. It's challenging to capture someone's likeness when they're moving. If someone can't physically come to my table, such as an elderly or handicap person, I always go to them.
I'm planning a fundraiser. We can't pay you but you can charge individuals. Will you come?
Since my business is based on paid private & corporate event bookings, I can't commit to non-paying fundraisers far in advance. However, if I find myself available last minute I'd be happy to consider drawing at your fundraiser.
I look forward to talking to you about your event! Here's some booking information.