I know you need fun entertainment at your wedding reception. Invite me and my artists to draw caricatures of your guests. It's always a hit!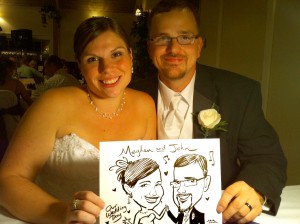 My caricatures give your guests something fun to do AND take home!
I also draw at:
rehearsal dinners
bridal showers
bachelor & bachelorette parties
Here's what you can expect when you book me:
Laughter and praise from your guests. ("What a GREAT idea!")
A conversation ice-breaker for your friends and relatives.
Memories that will be framed and last forever!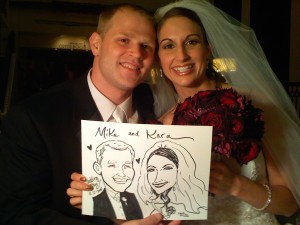 At weddings I typically work with additional artists that I can provide for you. That way, as many of your guests get drawn as possible. I work with the best artists in New England.
Just provide our seating, and we do the rest!
Why book ME (and my artists) for your wedding?
We're professional full-time artists and art school graduates.
Years of experience drawing at special events.
We draw fast and capture great likenesses, never insulting.
Friendly personalities, good with all ages, we make your guests smile!
And here's another FUN idea…
Instead of having a guest book, have everyone sign a matted caricature of the bride & groom! It's something I can draw for you weeks before the wedding (from your photos).

(I can also draw caricatures for Save-the-Dates & invitations!)
Let me help make your wedding day even more fun!
Call me: 508-572-2946
If you're looking for wedding entertainment in Boston, Cape Cod, and beyond, it would be my honor to draw caricatures at your reception. Please contact me to discuss your wedding. Book now to reserve your date!