Need a fun gift for that special person? I can draw from your photos! Perfect for any occasion. Check out the possibilities!
Perfect for:
Farewell & Appreciation gifts
Christmas presents
Wedding gift!
Mother's & Father's Day
How does it work? 
All I need is a few good photos (emailed), and a brief description of what you want me to draw.
How much does it cost?
The fee will depend on the complexity of the project. Please contact me to discuss your idea and I'll be happy to give you a price and answer all your questions.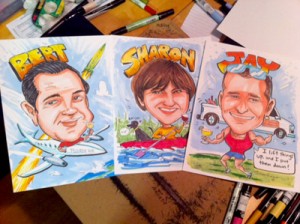 I can give you the artwork as an original ink drawing made on heavy acid-free paper.
Or…
As a digital file so you can print the artwork yourself or send it by email to the recipient!
For large group caricatures in the Boston area, I can come to you and draw a pencil sketch of your group, then finish the job in my studio.
(*I leave the matting and framing to you. Exceptions can be made for corporate group caricatures for which I offer package deals. Inquire!
Be creative…Make someone smile! Contact me and let's discuss your project!